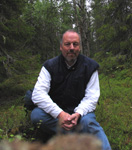 Jonathan is a ceramic artist specializing in finely made individual work.  Despite its obviously contemporary form Jon is not greatly influenced by many contemporary ceramics genres but finds his inspiration in ancient history and spiritual practices of indigenous people around the world. The beautiful ceremonial work of the Anasazi in the Arizona desert combining creation myths and ritual function; early Christian icons; the ancient rock carvings and Bradshaw paintings by the people in the Kimberly area of Australia where a sophisticated shamanic culture thrived long before the aboriginals; the glassware of the Persian Empire; the tiles on the great facades of Samarkand; traditional Tibetan thankas. All speak to him with an old voice that is he feels is worth listening to.
Subject to many international awards and commendations, his ceramic work is in public collections and museums around the world. Over a career of 40 years he has had many solo exhibitions in Britain, Germany, France, Holland, Belgium, Italy, Switzerland, the Middle East, America, Taiwan, Japan, Korea and New Zealand and has been featured in magazines, catalogues, dictionaries and other books.
Gold Medal -13th Biennale, Vallauris (F)1992.
Silver Medal – Kutani International Ceramics Competition (J)
1997 Honourable Mentions – Mino Triennale, Zagreb Triennale.
Member of International Academy of Ceramics – Prague 1994
Collections include Keramion, Kestner, Taipai and Cologne museums.
View Jonathan Middlemiss Portfolio,