Until 23rd February 2012 –
The Majlis Gallery is delighted that Astrid Harrisson, International Horse Photographer will be with us in Dubai from Tuesday 10th January.
There is a  Polo Tournament on from the 9th – 13th January – The Nations Cup  and Astrid will be visiting the Desert Palms Polo Club to meet and photograph the various polo ponies in action.  Following that, Astrid will be holding Workshops at The Majlis Gallery.
Astrid has travelled extensively to all corners of the earth in pursuit of her twin passions, Horses and Photography.  Her work is literally breath taking. Her recent book "The Majesty of the Horse" in collaboration with Tamsin Pickeral documents every known breed of horse in the world. A combination of encyclopedic information and stunning imagery it is destined to become a classic. Her photographs are printed in very small editions all hand signed and again will become collector's items. It a joy for us to be associated with such a talented artist.
Astrid focuses on producing large format pieces of art, which she exhibits throughout the year at various group exhibitions and events, and she prints limited edition runs of her work and sells privately to clients all around the world.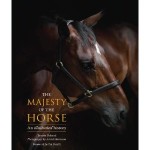 Astrid Harrisson work is showcased more recently in the launch of book The Majesty of the Horse – An Illustrated History.  The Majesty of the Horse explores the sheer beauty and gradeur of horses, revealing the central role they have played in human societies  throughout the world and accross the ages.
The Majesty of the Horse is available to order from The Majlis Gallery.
Click here to order your copy.
Astrid was recently featured on  City 7 TV (see below, scroll to 3 minutes, 51 seconds) and will be coming up soon on Out and About – Dubai One.
[youtube]http://www.youtube.com/watch?v=N5EkWFHz1fE#t=03m51s[/youtube]