March 17,18,19 and 20
All materials and tuition are covered in the workshop fee of
450 dirhams per 3 hour session
Anne Clifton is a highly respected Australian glass artist with a varied background in many forms of art and teaching
She will guide you through the fundamental aspects of bead making in a fun and safe way. These series of workshops are specifically designed for those with limited or no previous glass experience. Together throughout the first three workshops you will learn to make and shape glass beads and explore decorative techniques to make your own exquisite personalized beads. The very last workshop is where we will continue your glass journey and discover the Floral Bead. These beads are made in the same way that Anne makes the lamp worked flowers on her magnificent Wildflower Perfume Bottles.
Sunday 10-1: For the absolute beginner who wants to start out right! We explore all the elements needed to make any bead that you can think of. A very good foundation – even for those with some glass experience. You could combine this workshop with the Monday one to really get to grips with becoming a glass maker
Monday 10-1: Shapes! You need not have any experience for this workshop – but it helps. We will explore both internal design shapes and external physical shapes – also how to get that elusive perfect pearl-round bead.
Tuesday 10-1: Colour play. Also another beginner workshop – you will benefit from previous experience but only necessary if you want to use the gold based ruby colours. We will explore how colour works together, how to develop your glass palette, how to mix your own!
Tuesday 2:30-5:30: Floral beads. For those who have some experience.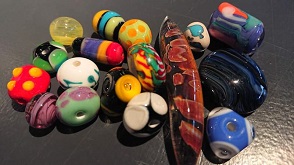 FAQ
How many beads will we make in each class?
You will learn how to make (at least) six designs in each class except for the final intermediate class.
Is there practice time available?
We can negotiate some practice time after the class.
What if we want to continue?
Anne is offering to sell at cost the equipment and supplies she is bringing so you can carry on at home. All notes and safety instructions will be provided. She is also available to troubleshoot via Video Chat.
To book your slot contact Nirmala on
tel 04 3536233 majlisgallery@gmail.com