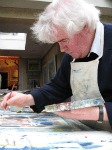 Alan Halliday was trained at the Courtauld Institute of Art where he was taught by Anthony Blunt and Anita Brookner, and also at Oxford where he was awarded a doctorate in the history of art. He has been painting full-time professionally for thirty years.
Alan first painted and exhibited with the Majlis in the early 1990s. He also exhibited, very successfully, in Beirut in conjunction with the Caracalla Dance Company. In addition to landscapes from around the world, Alan specializes in paintings of the human figure in general and dancers and performers in particular. He is currently Resident Artist with English National Ballet; and for the last twenty-five years he has drawn and painted all the dress rehearsals held by the Royal Ballet and the Royal Opera at Covent Garden. He has also been the on-set artist for award-winning films such as 'Shakespeare in Love'.
Alan has recently moved to France and is currently engaged on a large series of canvases in his new studio in the Loire. He also undertakes commissions for paintings to be shown in major public areas. In this way, he has painted extensively for a number of cruise liners, and also the imposing new foyer of the London InterContinental Hotel at Number One, Park Lane.