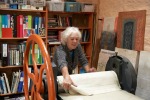 Jenny Croxford first came to Dubai in early 1980 and was one of the group of talented artists who showed their work on our walls in what have become known as "The old days",
The body of work that Jenny did then, just prior to the demolition of a large chunk of the Bastakia, is of great historic and architectural interest. Anyone who acquired a "Bastakia Series" from those early shows is truly the owner of a unique and beautiful record of a bygone era.
Jenny's fascination with Islamic Architecture and decoration was first kindled during her travels in southern Spain and Morocco during the 1970's. This was the work Alison first saw when she met her in Cornwall in 1979, Alison relates that " I just knew that Dubai would be a spring board for her" and so it has proved. Jenny's research into the mathematical intricacies of Islamic tessellations combined with her infinite talent as a printmaker, her knowledge and application of modern technology and her abounding creativity have won her recognition as a master of the art of print making.
This new collection of mono prints and original paintings sees an artist so in tune with her subject and her medium that she has taken her art to an even higher plane. A superb draftswoman (a skill that underpins the work of all good abstract artists) Jenny also makes her own papers and plates and mixes her own combination of inks and dyes and pigments. The pieces go through many stages of layering and building, often laying in wait for just the right piece of foil or translucent ink to be added to the composition. The final work emerges from the hand rolled press into the hands of a fairly exhausted artist. For it is truly a physical as well as creative process.