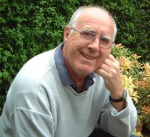 WATERCOLOURS
Delicate and subtle are perhaps surprising descriptions for the work of a past rugby-playing Welshman, but they are frequently used adjectives for John Harris' paintings. The contradiction is remarkable considering his career in art education, where he taught for 25 years in some tough schools in UK and overseas. Throughout, his interest in painting was a constant thread and in '86 he realised his ambition to become a full-time artist.
John's fascination with landscape spans the dark valleys of his native South Wales, its lovely mountains and rivers; the subtle shades of the English countryside; away to the Australian outback, the broad vistas of Africa and to the mountains, wadis and sparkling coastlines of Dubai and Oman.
Combined with his travels, John's continuing artistic development makes for a busy life, keeping several galleries supplied with fresh paintings and working on the surprising number of private commissions that take him to unexpected and interesting places.
John's work has frequently been exhibited with the Royal Institute of Watercolourists and hung in the Mall Galleries, London and at the 'Welsh Artist of the Year' exhibitions in Cardiff. He was the winner of the 'Elgar's Places' competition in 2007, a celebration of the great British composer's 150th Anniversary.
John's paintings are collected worldwide and he is delighted to have been associated with the Majlis Gallery since it started 25 years ago. A regularly updated collection of John's work here showcases his abiding interest in subtle light, reflection and the transitory aspects of atmosphere. It underlines his powerful connection to the landscape.