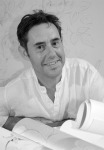 A graduate from the Royal College of Art in 1982. Kevin Dean has illustrated numerous publications, designed textiles, murals and decorations for architecture.
His keen interest in the environment, flora and fauna is reflected in much of his work. Two children's books illustrated with Prof. Norris Wood, Jungles and Rivers & Lakes, from the Nature Hide & Seek series have sold over a Million copies worldwide.
Working with Fantini Mosaici of Milan, Kevin has created a unique floral design for the marble floor of the 18,000 sq m Sahan or courtyard in The Grand Mosque Abu Dhabi. He also designed other large floors and archways within the mosque in collaboration with the international architects Spatium, Milan. The Grand Mosque opened in March 2008.
In May 2008 Kevin showed his first collection of wallpapers at The International Contemporary Furniture Fair, New York. The English Roses collection of wallpapers is traditional/classic but the scale of the designs, the colours and materials used give the collection a very contemporary look. The collection was very well received by the design industry and Kevin has added some exclusive textiles and tableware to the range.
An experienced teacher and lecturer, Kevin has taught at The Royal College of Art, The Eden Project and in schools and colleges around the UK. He has lectured at The V&A and The Dulwich Picture Gallery. Kevin lives on the south coast of England with his wife, 3 lively sons and a large collection of plants.