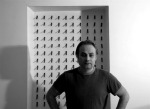 Mostafa Darehbaghi was born in the Tehran, Iran, where he developed a profound appreciation of art at an early age. This inner interest inspired him to continue a professional life in art leading to his graduation from the University of Arts of Tehran. The intervening prolific years have yielded 28 solo and more than 120 group exhibitions throughout Iran, Dubai, US, Sweden, India, Belgium, Cyprus, and Croatia. Mostafa has attained many prestigious awards and honors. His works are permanently displayed in prominent public and private collections including Carnegie Hall New York, Georgian Bank of Atlanta, Alliance Française of Atlanta, The Armory Show New York, Sidney Marcus Foundation (Home Depot founded) in Atlanta, Consulate of France in Atlanta, Tehran Museum of Modern Art, Embassy of Italy in Tehran, Embassy of Brazil in Tehran and in a private dwelling on The World Dubai. He is currently based  in Atlanta , USA and Tehran.
Mostafa's work often features harmonic blends of geometric patterns incorporated with figurative subjects that create a unique abstract atmosphere. His style retains a visual complexity of symbolic elements that are also influenced by nature.
In 1995, Mostafa Darehbaghi had his first show at The Majlis Gallery. We were delighted to introduce his artwork to Dubai's developing art scene. He has held many solo and group exhibitions at Majlis Gallery since, becoming  an established member of Dubai's art scene  "The dynamic movement of this city is extremely exciting, it directly influences me and my state of mind." is how he describes his relationship with this part f the world.