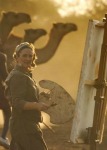 British born artist Sophie Walbeoffe has painting in her veins. Her French great grandparents were both painters living in Antibes, France during 1920s. Her great uncle established the Courtauld Institute of Art. She studied painting at the Wimbledon School of Art with excellent tutors, Maggie Hambling and Prunella Clough only to mention a few. Cecil Collins at the Central School of Art, who was inspired by Eastern spirituality, also guided Sophie. Following a meditation exercise, Collins would make his class paint using hands, mouth and feet. From his teaching Sophie adopted a spontaneous form of working in which both hands are used. "It makes you use your soul – it is more impulsive and creates magic straight away."
Sophie arrived in Dubai as a painter in the late 80s, drawn by stories of the desert landscapes and the Bedouins who have gracefully managed to maintain their traditions. Whilst painting in Dubai for two years she learnt about British explorer Wilfred Thesiger, and subsequently in 1988 when she was the official artist for Operation Raleigh in Kenya, she met Wilfred and painted his portrait. After the initial culture shock of living in tents in the bush for weeks, she not only fell in love with Africa, but also met her future husband Piers Simpkin, who was living with the Samburu warriors of the Northern Frontier District. After 10 years painting in the north of Kenya, Sophie and Piers moved to Nairobi with their daughter Lara and son Jasper, bringing with them Piers' herd of fifty camels, which continue to be a constant source of inspiration for Sophie's paintings.
It is the timelessness of Kenya, the people, the wild beasts and the landscape that attract her most, but Sophie often returns to paint in England and Europe, enjoying the challenge of contrasting landscapes. Through 2002 to 2005, Sophie was regularly drawn out of Kenya back to the souks, spices and the exotic world of the Middle East, spending several months painting in the deserts of Oman and the Gulf.