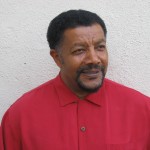 The exhibition title, From Spoken to Seen, focuses our attention on the elegant and versatile calligraphic symbols at the core of his paintings. Wosene (his professional name) is the first Ethiopian-born contemporary painter to extract the Amharic script – the major language of Ethiopia – from its literal conventions to create a series of works that range from expressive, bold, and intense compositions to quiet, almost monochromatic, delicate works. His use of script as 'word/play,' as Wosene describes it, is now recognized internationally as his artistic signature.
During the past thirty years, Wosene has produced five major series of paintings in which he has defined'aesthetics of script': Graffiti Magic (1980-1987); Africa: The New Alphabet (1988-1994); Color of Words (1995-2003); Words: From Spoken to Seen (2004-2008). In his current series Wordplay (2009-present), painting has become an intense process of 'dialoguing' with the script images, exploring the versatility and playfulness of their surfaces and interiors, dissecting and reconfiguring their 'bones,' observing how they move and interact. He elongates, distorts inverts, dissects, and recombines the images, and turns them inside out to discover their moods, tempers, personalities, and voices. The script images become then a language in themselves that speak to international audiences on the wonder of the human drama.
Considered by art historians and art critics as a master colorist, Wosene describes his creative process: "I don't pre-sketch paintings; my process is exploratory: an interplay of accident and intention, of mastery and uncertainty, of curiosity and discovery. Quick-drying acrylics allow me to easily build and destroy colors and figures on canvas. I use a wide-ranging palette, from bold primary colors to muted tones that look almost repellent on my palette, but that smoothly integrate into a composition; to black and white paintings with bare touches of color; to works in several tones of a single color."
Since his student years at the School of Fine Art in Addis Ababa (BFA, 1972), and his graduate studies at Howard University in Washington, D.C. (MFA, 1980), jazz has asserted a major influence on his work. Like jazz music, the script provides a repertoire of dense, yet supple elements that lend themselves well to visual improvisation. Jazz also influences his sense of composition: like improvisational music, the language symbols become juxtaposed on canvas in nonverbal 'word-plays' to create a visual harmony of rhythm, contrast, and movement.
Wosene's paintings are in permanent museum collections, including the Smithsonian National Museum of African Art, Washington, DC; The Newark Museum, New Jersey; Neuberger Museum, New York; Birmingham Museum of Art, Alabama; Voelkerkunde Museum, Switzerland; Fowler Museum, California; National Museum, Ethiopia; and in many international private and corporate collections. He resides in Addis Ababa and Berkeley, California and works in his studio in Oakland, California.