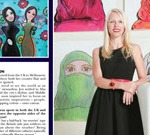 Jennifer Simon has put her mark on the art world with her unique depiction of urban cityscapes, people, and her life experiences both traveling & living abroad in the UK and Australia. Her art explores our ever-changing world and celebrates the evolution of the UAE, the embrace of western culture and the great moments that have united its people. Jen has worked with many organizations and charities recently completing a four year art residency at Ewa'a Shelter for Women and Children, teaching art to victims of Human Trafficking. Supported by ADMAF, The Series of Silent Voices exhibitions not only generated widespread awareness, boosted the self esteem of the girls but also raised Aed 473,345 for the Shelter to help with rehabilitation.  Her Mural Mania Project, which kicked off last year also brings murals to schools and allows students to create permanent wall art and installations.
Jen also does Corporate Team building and Community Mural projects, working with Cleveland Clinic, Seven Sea's, Abu Dhabi Art fair, Jam Jar, Lexus, Aldar, Abu Dhabi Film Festival and many more.
She has exhibited in the U.A.E, Denmark, U.S.A and Australia.  In 2008 she launched her Limited edition print series which has seen her art work go global.
Jen is also largely known for "Painting people's lives".  These are personalized commission artworks tailored to the individual.  The waiting list is a minimum three months period.