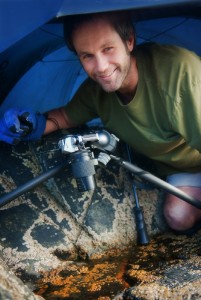 Daragh's interest in photography originally developed while scuba diving in 1992, when he was awestruck by being under water and the sights he beheld. Life under the sea was like another world, where he made an instant and profound connection with nature.
Determined to share this experience, Daragh bought a Canon camera, now a thirty year old model that he still uses, and began taking photographs. Aiming to capture nature's finer detail and convey some of it's abstract beauty, Daragh's work is a gentle reminder for us to appreciate our beautiful planet.
In 2007, Daragh embarked on a photographic expedition to the Sahara in Morocco and the glaciers of Iceland, in order to take photos of the contrasting climates and conditions. A collection of these images was then launched as an acclaimed exhibition called Sand & Ice.
Jewellery Box – Ireland's Hidden Gems, Daragh's latest work, shows his evolution as an artist and his continuing development as a professional nature photographer. The concept of a rock pool portrayed as a Jewellery Box is an idea that Daragh has brought to life with these images and brings us closer to the wonders of Ireland's seashore.
Daragh has exhibited throughout Ireland, the United States and Europe. Private collections are held in Ireland, UK, France, Holland, Belgium, South Africa, Hong Kong, Dubai, USA, Australia and New Zealand. Daragh sells his work under the banner of Dúlra Photography which he established in January, 2003.
Daragh Muldowney
E: daragh@dulraphotography.com
T: +353 87 293 9374
W: www.dulraphotography.com