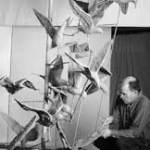 I have a high regard for Lloyd Le blanc's many skills. His work is characterized by a fluid and versatile mastery of his materials. Not only that, he is the complete sculptor in that he can handle every phase of his work from the clay or plaster of the modelling thorough all the many stages to the finished bronze sculpture. Nowadays, this is rare indeed. In recent years his work has been mostly concerned with animals, and in particular birds. Here again his mastery of materials comes into the picture. His knowledge of the technicalities of metal has enabled him to create sculptures which exploit the precarious to the limit, resulting in intriguing and exciting structures.

Hi surfaces are modeled in a fashion so that in certain light conditions they lose their structure to become almost photographic. This fulfills one of sculptures prime duties; to modulate light in a novel way. This change of perceptual direction will almost certainly be perceived unconsciously but even so will be felt as added reality.
On a personal level, Lloyd is well known amongst his friends for his dry sense of humour which often encapsulates a situation, a problem or what  needs to be done. This is significant, since humour, like art, through a  slight of hand changes one thing into another, thereby allowing a resolution of apparent tension. When  one looks hard at any object there are sure to be surprises, and this will be so for anyone who looks hard at Lloyd Le Blanc's sculpture. They will be surprised, and more.
Ken Ford, Sculptor