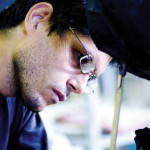 Owning a gallery is a cross between being a fisherman and a gambeler. One never knows what a day may bring. The day Cristiano came through our big wooden door we knew we had a hit lucky. Here was a young man so full of creativity, energy and enthusiasm. He had brought himself to Dubai to explore and discover what he felt would be an interesting multi cultural city. His drawings were so powerful and timeless and the photos of his sculpture so exciting that we just knew that the opportunity to work with him would present itself.
Cristiano was born and still lives in Rome. His youth was spent surrounded and influenced by the beauty and cultural history that personifies this iconic city. He drew and painted from a very young age and used his talent as an artist to pay for his university studies. In 1995, Cristiano decided to drop out of university and established a company with his brother and fellow artist Patrizio, inspired by old-style renaissance workshops. Since 2003, he has a displayed his work through personal exhibitions and with public and private institutions.
His fountain in the Piazza Appio was commissioned by Rome's City Council. His participation in the Venice Biennale and numerous other commissions have established Cristiano firmly in the lineage of the Italian Sculptors. We look forward to a long relationship with him and with Rome.