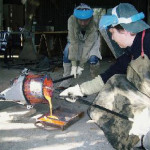 We are often asked how we find our artists, Susanna or Sanna, as she prefers to be known, is a very close friend and colleague of Lynette ten Krooden. Lynette often talked of the work and on her last visit brought us some samples of exquisite bronze shells modelled and cast by Sanna. We were entranced by them, their weight, tactility and patina.
Born in Pretoria in 1967 Susanna graduated from the University of Pretoria in 1989 with a Bachelor's of Fine Arts degree majoring in sculpture and visual communication. She then pursued a four year apprenticeship at the Johnson Atelier Technical Institute of Sculpture in New Jersey, USA, receiving her technical certifications in all aspects of foundry work in 1994. She also gained valuable experience in working with various materials including bronze alloys, mild and stainless steels, aluminium, cupro-nickel, cast iron and silver.
Europe then beckoned but after working for two years in Belgium, Sanna returned to South Africa and now produces sculpture that encompasses her love of the land and its people. The veld, its metaphysical beings, and the ancient mysteries of Africa are all reflected in her work.
Sanna has been active in showing, guest lecturing, judging and curating competitions in South Africa. She has been awarded the ABSA/Association of the Arts (Pretoria) Medal for Achievement for contribution to the arts. Her sculptures are in private collections worldwide and in the last few years she has completed commissions for the Development Bank of South Africa, the National Archives R.S.A. North-West University, Aardvark Award for Theatre 2012; and the ATKV Awards for the Stellenbosch Woordfees (language festival) as well as the Media and Author's "Veertjie" Feather Awards.
"Spiritual and emotional elements are embodied by the visual aspects in my work. Such characteristics are intended to function as primal memory triggers opening forgotten internal dialogues within the viewer.The limitless technical possibilities with bronze are an enticing challenge to me as an artist. The durability of a bronze, which when executed and finished will last thousands of years, fuels my feeling of the ongoing connection with the earth. The earth will outlast me and so will my sculptures, the cycles of birth and re-birth will continue." Roll one of her shells in your hand and you will understand.