The Majlis Gallery is the place for anything Fine Art related. An oasis of tranquility but buzzing with creativity.
Small is beautiful, from our earliest years we learn to collect little things that catch our eyes. A shell, an acorn, feathers, stones, as we grow older this intuitive habit never leaves us. That is what this exhibition Intimate Objects all about. Small intimate eye catching tactile objects that are just asking to be added to your collection.
We have brought together small works from, amongst others, Patricia Millns, Peter Hayes, Carole Grace, Hans Loots, Mustafa Ali, Lynette ten krooden, Junko Yamamoto and Sanna Swatt.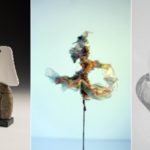 Peter Hayes – Carole Grace – Patricia Millns