Opening on Saturday 24th November.
We welcome the winter months with Seeking Al Seef by Martin Giesen an exhibition of works on paper exploring the multi facetted world of Dubai Creek.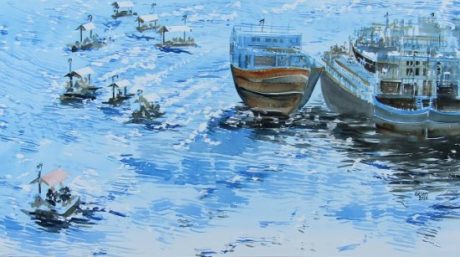 If you travel along Al Seef the stretch of waterfront along Dubai's creek, you could be forgiven you thought you were in a historic neighborhood. Wind tower houses, narrow alleys, restaurants and shops all seem grown organically over decades into a port community on the Arabian Gulf. In reality, Al-Seef is a typical Dubai project: brand new and unabashedly geared towards commerce. It utilizes the Venice-like appeal of a city on the water. It boldly appropriates the historical appearance of 19th century regional architecture but constructs this nostalgic tableau with contemporary building technology. The result is a 1,8 km long neighborhood with invisible underground parking, upscale hotel and event facilities, all hidden behind the stage set of an artfully aged and romanticized market town of merchants and pearl fishers.
Memorable art always tells at least two stories: The story of content and the story of form. The content story of Dubai reflects our contemporary dilemma. We demand universality and equality but insist that identity is a treasure. We seek global integration and witness a shrinking planet but aim to safeguard cultural authenticity.
The formal story of Giesen's watercolors reiterates modernist concerns. It plays with degrees of abstraction, explores patterns both repetitive and colorful, shifting intermittently to a representational even figurative focus.
Nestling beside Al Seef is the authentic Al Fahidi Neighbourhood which like the creek has sustained itself through the years. Years that have seen Dubai almost forsake its origins.
Martins paintings bring us back to those origins
click here to view the entire collection