Observe + Absorb
An exhibition by pioneering Emirati artist Mona Al-Khaja
Emirati Artist Mona Al Khaja studied art from 1976 to 1981 at the College of Fine Arts in Cairo, where she developed a natural talent for oil and acrylic painting. Since then, the mother of 6 and grandmother also of 6 has evolved her style from realism to abstract as a way to continue expanding her journey as an artist. Her pieces are studded with Middle-Eastern motifs and Islamic patterns and can be distinguished by her signature use of bold colors. Balancing her time as a full-time artist, wife, mother and a grand-mother has been challenging for Mona, but she hopes that her work will be appreciated by art lovers and inspire other Emirati women to pursue their passions and creativity.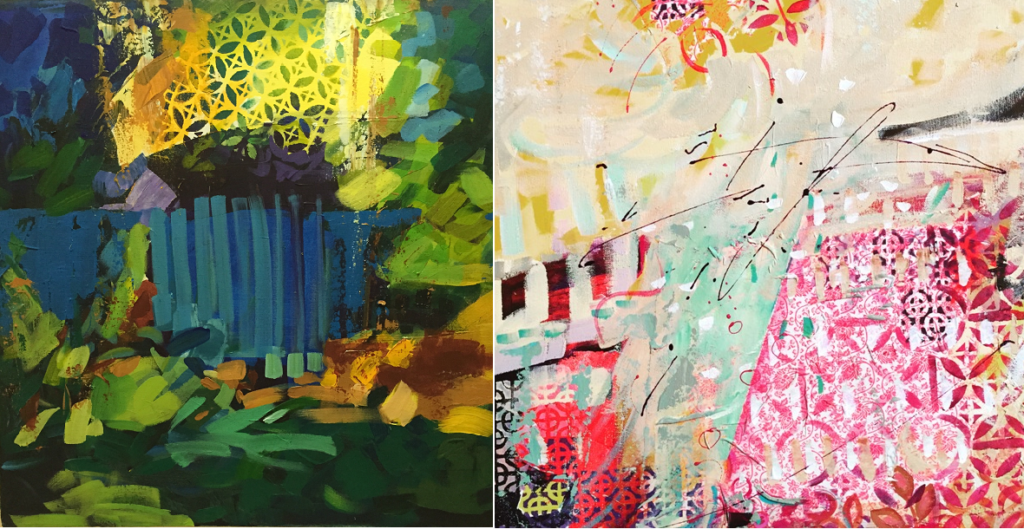 Below, a poetic message from the
Below, a poetic message from the artist herself:
"Painting is my world, a place where I can freely swim with my thoughts and exercise my ability to describe the world as I desire. I arrange it according to my imagination, returning to thoughts, places and themes that can only be expressed by observing and absorbing them into a visual story.
In my opinion, a good work of art consists of using time and space, depth and movement, shadow and light, to enrich the eyesight and provoke inner-thoughts. Personally, I am influenced by the changes in colour and form that take place in everything that surrounds me, from the change of seasons to the diversity of light in different regions. I observe how a blue sky turns to shades of night, how a light wind raises dust that disturbs a clear sky – giving it a yellow tinge that hides the contours of shadows on the floor.
I grab my brush and the ideas grapple inside me. I find them bound by some of the influences that stem from inherited legacies. I attempt to break free from them to give my ideas the opportunity to explore beyond these constraints. I try to paint new forms and use slightly different methods, but they tend to return back to their origins, as if they were fixed in my being."
There is no direct human form in my work, but its fingerprints are still present in my paintings. I often use decorative elements inspired by my local and Islamic heritage, such as nature, jewelry, clothing and calligraphy, as well as architectural symbols and motifs. These elements constantly enrich my ideas.
Click Here to Download Catalogue