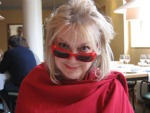 June Bartlett first arrived in the U.A.E. in 1979 – and first showed her work in the Gulf at the British Trade Fair in Dubai. Since then she has regularly exhibited at several different venues including the Majlis Gallery.
She is known predominantly as a landscape painter but she is also highly regarded for her portraiture. In 1980 she was commissioned to paint the portrait of HH Sheikh Zayed bin Sultan Al Nahyan, President of the U.A.E. and Ruler of Abu Dhabi, and has since completed portraits of HH Sheikh Isa bin Sulman Al Khalifa of Bahrain, (1983) and HM Sultan Qaboos bin Said of Oman, (1995).
In 2000 an extensive tour of Jordan was arranged by the Diwan – resulting in June painting twelve landscapes for the Royal Court, Amman. 2007 saw June taking off for Syria. A solo exhibition of her Syrian paintings at a major London gallery is planned for 2009. June lived in Bahrain for several years and has visited Oman on many occasions.
She is now mainly based in the UK but returns frequently to the Middle East and her Gulf-inspired work is shown regularly at prestigious galleries in London.