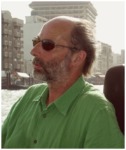 Alexander Creswell's early years as the son of a diplomat instilled in him a love of travel and the observation of diverse cultures, observations that he recorded intuitively in sketch books and on scraps of paper. Largely self-taught he has become one of today's most revered and collectible watercolour artists. He is noted above all else for his splendid series of commissions carried out for the British Royal Family and for his haunting paintings of and books on "The Silent Houses of Britain."
His artist-traveler lifestyle takes him literally all over the world From New York to the Great Wall of China but he is often drawn back to Oman and the UAE to record the fast disappearing evidence of, as he puts it, "past footsteps".
Alexander's paintings so vividly capture the light and atmosphere of the Southern Gulf. In his words "you have to really understand a place before you can expect to paint it convincingly." He spends countless hours wandering looking absorbing and recording his visual and emotional experiences in his own inimitable style. A style that owes much to his in depth understanding and command of the craft of watercolour painting.