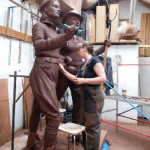 Alison first met Denise in the late 90's when as a very enterprising young artist she brought a collection of her work to the very first Arabian Horse Show. Then as now she came across as a very modest artist with extreme talent and dedication. She was showing the most stunning full sized horse balanced on one foreleg, quite a feat for a horse let alone a sculptor. Sculpture has been an integral part of Denise's life along with drawing and an admiration of the horse in particular. Committed study is the bedrock of her work. Daily refreshment through observation and drawing assures a familiarity which informs her art. Capturing the life and spirit of the subject, whether horse or human, is her reason to sculpt.
After a foundation course at Cambridge, Denise studied at the Sir Henry Doulton School of sculpture in Staffordshire. Here she studied both the figure and the horse.
The majority of her work is to commission and includes life size pieces such as Amberleigh House, the winner of the 2004 Grand National and the last Maharaja of India, Duleep Singh on horseback unveiled by Prince Charles, on Button Island, Thetford, England. She has just completed a Memorial to honor the work of the Land Girls and Lumber Jill's of the first and second world wars which is now sited at the Staffordshire Arboretum and was unveiled by the Countess of Wessex last October.
When not working on commissions she returns to the subject of the horse which constantly inspires her, studying the animal anatomically aesthetically and behaviorally. Working on any scale from small to more than life size – attention to detail underpins the processes of sculpting modeling and casting.