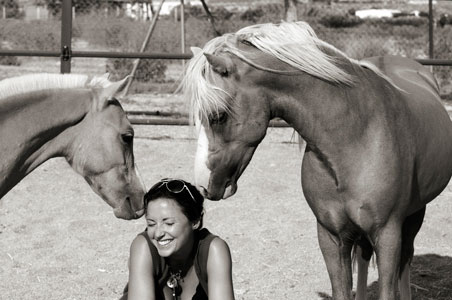 An award-winning photographer inspired by the world of the horse, Astrid Harrisson is renowned for her ability to capture the essence of her subjects in her work. Astrid's imagery appeals to a global audience and her fine art works are held by myriad private collectors the world over. Commissions take Astrid around the globe enabling her to continue to dedicate her life to working with some of the world's finest and rarest horses amongst some of the most interesting cultures. Astrid travels regularly to the Middle East, where her attentions were originally drawn by the beauty and history of the world of the Arabian horse.
Astrid's vision is simple and clear – one of empathy, intrigue and spirit. The compassion Astrid has for her subjects is evident in every image, her talents behind the lens perhaps second-place to the sense of intimacy and nostalgia she evokes through her works.
The combination of digital processing methods and interesting printing materials is what continues to absorb Astrid – she is currently exploring printing original pieces onto recycled metals and handmade Indian cotton rag, as well as producing a collection of photogravure etchings of horses from around the world under the kind Patronage of Shaikha Hissa bint Sultan bin Khalifa al Nahyan.
Astrid collaborated with British author Tamsin Pickeral to produce a coffee table book entitled "The Majesty of the Horse", which was published internationally in 2012.
ARTIST NOTE
"I am an experimenter, a dreamer and an adventurer. And I'm not very good at sticking to the rules. I believe these traits help cultivate my style and distinguish me from the crowd. My work is about an animal that so many cultures love and admire; an animal that never ceases to amaze, and one that is deeply integrated within societies the world over. Herein lies my fascination."­
Image © Sam Churchil
www.astridharrisson.com