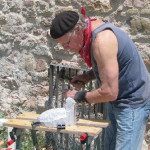 Hannes Loots is a medical doctor, executive consultant, student in philosophy, traveller and above all a sculptor. He lives and works in Stellenbosch, South Africa. His delightful bronze sculptures have been shown through The Majlis Gallery for many years. An Afghan hound, a Saluki and several Bulls have all moved on to become talking points in homes around the world.
Hannes studied sculpturing techniques by attending evening-classes at the Art School of Port Elizabeth Technicon's Faculty of Art and Design (now Nelson Mandela Metropolitan University, Port Elizabeth, South Africa) under the guidance of David Jones and Andriete Wentzel. From 1992 through to 1995 he completed advanced courses in sculpturing techniques, moulds and design using different media. In 2012 he took an art vacation and did marble sculpturing in the studio of the master sculptor, Severino Braccialarghe, in Croce/Caldarola, Italy. He works in different media but prefers to make his art in indigenous woods, bronze, stone and soft metals. A small bronze Maquette will often be enlarged into bigger sculptures to reach life size proportions.
Since 1996 he has taken part in many combined and solo exhibitions in South Africa and Dubai. He was awarded the Dave Macgregor Trophy for sculpturing by the Eastern Province Society of Fine Arts (South Africa) in 1993. His art can be seen in many private collections, internationally and local, as well as selected art galleries.