Summer Workshops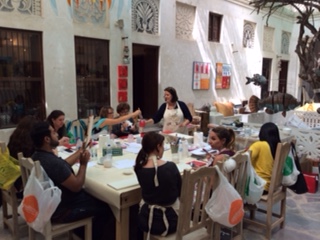 With The hotter months upon us we will moving indoors to our dedicated

Annie Sloan Studio
Run By Jen Nolan all workshops are a single day from 10am – 1pm
All materials provided.
Essential Techniques
May 24th, 31st and 14th June.
All you need to know to get started
450 Dhms per day
Techniques Two
May 25th. June 1st and 15th
Including gilding decoupage and stencilling.
500 Dhms per day
900 Dhms if you sign up for 2 courses.
To book a course simply e mail majlisgallery@gmail.com
or Telephone +9714 3536233
Chalk PaintTM can be used in numerous ways to achieve a myriad of colours and finishes.
These workshops will get you hooked into transforming your home into just that "your home"
Developed 25years ago by Annie Sloan a painter, designer and homemaker, author of numerous books,
Chalk Paint has become a bye word globally for all that is easy, fun and creative in redecoration