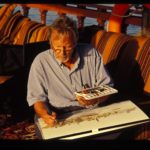 Born and schooled in Germany, Martin Giesen started to paint at age 15. After school he studied art history at Heidelberg University. For a year he interned at the Metropolitan Museum of Art in New York followed by the completion of a PhD.
With marriage and children, Giesen entered into a career of university teaching. He has taught in Lebanon (AUB 1973-85), Saudi Arabia, Canada, and since 1997 in the UAE, where he was founding dean of the School of Architecture & Design at the American University of Sharjah. For some 35 years, Giesen has produced and exhibited watercolor paintings documenting the impact of development on the environment.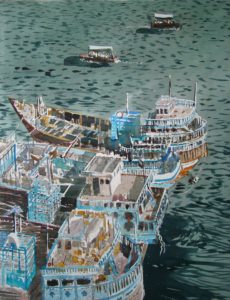 His paintings produced in Lebanon during the years of the civil war received critical acclaim. His work has been shown in solo exhibits in Lebanon, Germany, Canada and the UAE. David Tannous, Washington corresponding editor for Art in America, called Giesen a "contemporary orientalist".
Martin has the ability to "get under the skin" of a place and a culture. His paintings have "spirit" telling a story of a specific environment at a specific time, narratives that are more than just visual illustrative records.His paintings are to be found hanging in many prestigious collections around the world.